July Meeting – The enigmatic Varroa mite: enemy or innocent bystander?
July 19 @ 7:30 pm

-

9:00 pm
Event Navigation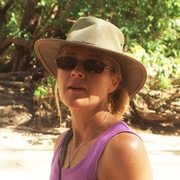 Tonight's guest speaker is Professor Madeleine Beekman who is the Deputy Head of School, Queen Elizabeth II Fellow and Senior International Research Fellow
School of Life and Environmental Sciences, The University of Sydney.
Madeleine will be presenting on varroa mites, a presentation she will also be giving at the 3rd Annual Bee Congress 
"Research interests
I am generally interested in evolutionary questions, and social insects are an excellent model system. I also work on a weird organism: the acellular slime mould (Google it!). It is a wonderful organism to address interesting questions.
Currently my research interests can be grouped into five main themes:
Conflict and cooperation
Evolution of the dance language in the genus Apis
Decision-making in decentralised systems
Inter- and intragenomic conflict
The evolution of cognition
For more information see my research and publication pages."
Please follow and like us:
Related Events