Maxi October Requeening
October 31, 2018 @ 11:00 am

-

3:00 pm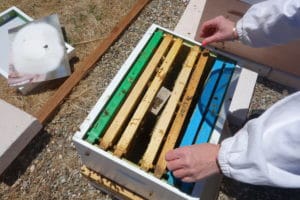 Direct requeening at Jerrabomberra Wetlands – 2 November 2016
Two spring requeening days
Following a mini requeening event using Carniolan queens from Australian Queen Bee Line scheduled for Wednesday 17 October, a larger scale requeening program to get the apiary up to scratch is planned for Wednesday 31 October. Those queens will all be Italians – the mainstay of the apiary – on order from Beelinesbeewares run by Frank Malfroy and Jenny Douglas.
Why Wednesdays?  Well all the queens we get from around the Orange-Bathurst region (we like to get queens from a similar climate to ours) are always despatched on a Monday.  That way they arrive with little risk they will end up in an Australia Post depot over a weekend.  In practice they arrive 'some time' on a Wednesday and anyway we can confirm despatch by a quick phone call. Don't despair, there is always the job of setting up nucs a day or two in advance and there are always follow up sessions to mark and use nucs to requeen larger colonies so some of those will be scheduled – at short notice for weekends.
Wed 17 October
The early requeening is a recovery job.  Some colonies will not have fared well over winter, despite good stores, because queens apiary wide had to work so hard to supply bees to harvest and store honey last summer and autumn.
Wed 31 October
This event will target colonies that aren't simply aren't faring well or that have not been requeened for more than 18 months.  The trick will be to retain any good performing queens for back up later in the season.  Last autumn we simply had to use all the good queens we could lay hands on: one old queen is in our display Ulster hive.
Since every bee has a mother, looking after the mother of the colony, the queen (and making sure they are free of serious disease and ensuring colonies are well provisioned) is the real secret to beekeeping success, that is if you want to control swarming and actually want scuds of honey.  Check out the club policy on requeening, not too hard to find on your website.
Actual requeening is a tight schedule affair as club purchases also involve getting queens to club members.  So timing and even date is uncertain.
Alan Wade