Natural Beekeeping -2 Day Course
February 16, 2019 @ 10:00 am

-

February 17, 2019 @ 4:00 pm

$250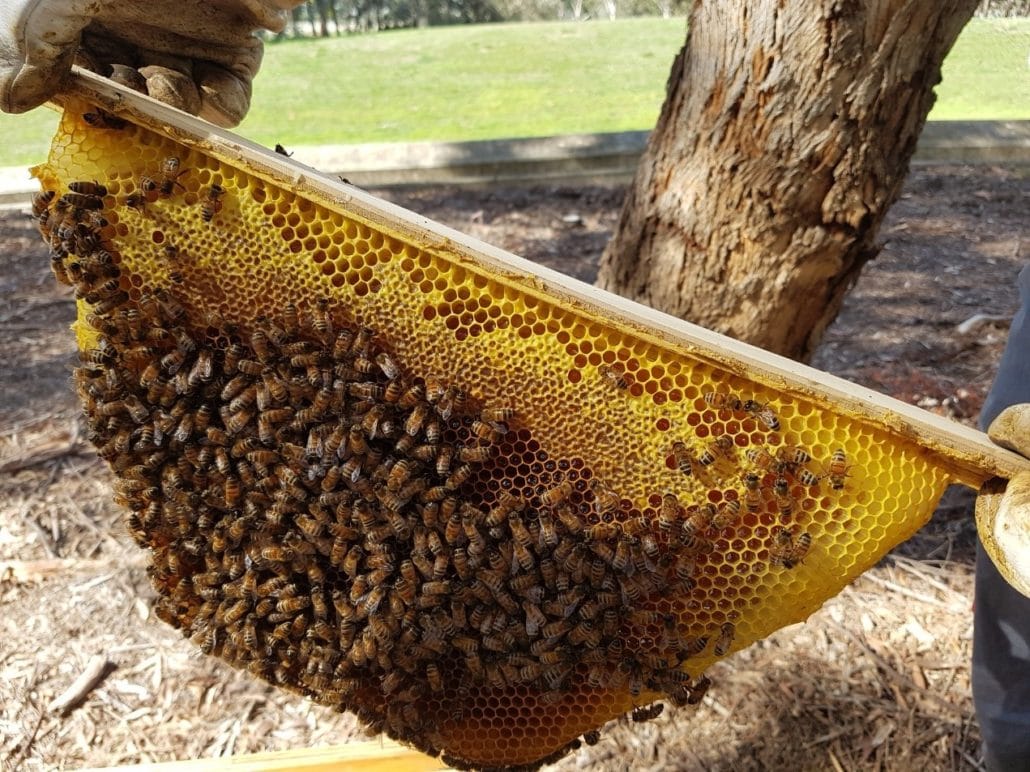 Course Outline
Natural beekeeping is a philosophy that places a strong emphasis on understanding the biology and ecology of natural hives, and then adapting management approaches that mimic these processes as closely as possible.  While this is often associated with Warre and Top Bar hives, in reality any hive design can be used, as natural beekeeping is an ethos and approach rather than a rigid prescription.
Natural beekeeping differs from the standard approach in three main ways:
Emphasis on natural processes for requeening and colony increase
Allowing natural comb to develop as much as possible
Avoiding excessive artificial interventions such as feeding
The course will include a combination of theoretical and practical learning to equip participants with the skills to manage their hives independently, with an emphasis on safety for both bees and beekeepers.
Course cost per student: $250
Number of students per course: 12
Course leader: Cormac Farrell
Tutors: Sarah Asls Sha'Non, John Grubb
Core competencies:
Honeybee biology and understanding how this applies to hive management
Honeybee ecology, including disease & pest interactions, how this applies to resolving them
Importance of natural honeycomb processes
Overview of hive designs & how to manage these in the natural system
Note: This is a 'Flow Hive friendly' course – all hive styles are welcome.
The following section provides an outline of course content, which will be supported by notes and course handouts.
What is an isn't Natural Beekeeping (40 mins)
Understanding colony behaviour in the wild
Re-Queening, when the bees do it
Treatments – mythbusting about disease – all hives are at risk.
Feeding over winter and why it can send your management backwards
Hive design – the least important part (from a bees perspective!)
Managing natural comb development with different hive design (30 mins)
Top Bar
Warre
Langstrogh & Flow Hive
Colony Establishment (40 mins)
Bait hives
Swarms – both catching into a hive, and use of nucleus colonies
Shaken Swarm method to establish top bar hives
[First Field Inspection- approx. 1 hour]
Ongoing Management (1.5 hrs)
How natural comb should develop in the hive
Pests and Disease detection

AFB/EFB – critical, reportable diseases
Nosema – indication of stress, poor hive placement & genetics
Chalkbrood – importance of hive hygiene
Small Hive Beetle – preventing build-up and infestation
Wasps – non-toxic control methods

Extreme Temperatures
Theft/Vandalism
[Second Field Inspection – approx. 1 hour]
Hive Manipulation (1 hr)
Re-Queening, when to do it in the natural system

Manual searches
Warre – smoking through a screen

Merging colonies
When to let a colony die, and when to euthanise it

Winter starvation
Critical disease checks
Euthanasia methods
Tips & Tricks (1 hr)
Flow Hive

Starting supers (wax priming)
Managing cross-coming in foundationless supers
Critters- the good and the bad

Top Bar

Handling combs to reduce breakage
Managing lateral development of natural combs
Managing cross-combing

Warre Hive

Frame management & preparation
Naidiring vs supering to encourage constant natural comb renewal
Comb Breakage
Critters in the quilt box (ants, lizards, spiders, frogs)
About the course convener:
Cormac Farrell is a Canberra based beekeeper and environmental scientist with broad experience in beekeeping methods.  He is the immediate ex-President of ACT Beekeepers Association and is currently head beekeeper for the Australian Parliament.  He currently runs over a dozen hives throughout Canberra and the surrounding region, producing award-winning honey from Langstroth, Warre and Top-bar hives.