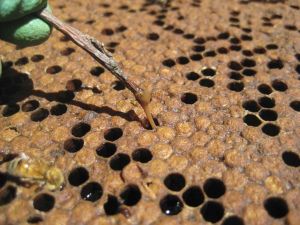 American foulbrood (AFB) has recently been detected in hives within your local government area (LGA) or an adjoining LGA.
As AFB is easily spread by robbing (bees removing honey from an infected and weak hive and returning that honey to a strong hive), there is a possibility that your hives may be infected.
It is recommended that you:
Inspect your hives
It is recommended that you check your hives for AFB. For information on how to inspect for AFB please view the following video.
https://www.youtube.com/watch?v=v2Aa56jut7Y
Test
You can test for AFB by preparing a  slide (PDF, 318.08 KB)  from any suspect diseased cells and sending it, along with a  submission form  for diagnosis to:
NSW DPI Laboratory Services
Courier address:
Woodbridge Road,
Menangle NSW 2568
Postal address:
Private Bag 4008, Narellan NSW 2567
Phone: 1800 675 623
Email: laboratory.services@dpi.nsw.gov.au
You should also consider testing honey from your apiary to see if the AFB bacterium is present in your operation. Contact the laboratory on the number above for how to prepare a honey sample.
Notify 
It is a legislative requirement to report AFB to NSW DPI within one working day if you know the disease is present.
Ring the Biosecurity Helpline on (02) 9741 4790, or Submit an online form
Act
If you have AFB, you must:
Kill the bees in the affected hive, and
destroy the affected hives by burning, or
treat the hives by hot wax dipping, or
irradiate the affected hives and frames.
For more information about irradiation, refer to the Steritech website.
AFB is fatal and incurable and steps must be taken to eradicate the disease when it is found in your hives. More information on managing AFB including disposal of hives can be found here.