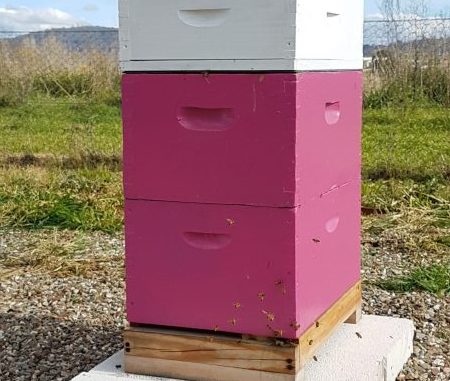 Yep, here it is, a sentinel hive
Club versus Sentinel Hives
Sentinel Hives are this dreadful Lickedy Lick colour and all frames have the same identifying colour spotted onto their top bars.  Apiary club hives have a large blue dot on both boxes and frames so that the two operations are never mixed..
Sentinel Hives
Sentinel Varroa detection hives (stationed at Jerrbomberra Wetlands and around the Canberra Airport perimeter) are run by the club for the National Bee Pest Surveillance Program and are off limits for honey production as chemicals are used to detect mites.
Club Hives
Club bees (all at Jerrabomberra Wetlands and without Lickedy Lick colour markings) are for general club use including demonstration, training and educational purposes.  While not primarily production colonies, honey and wax products are harvested and are an integral part of club activities.