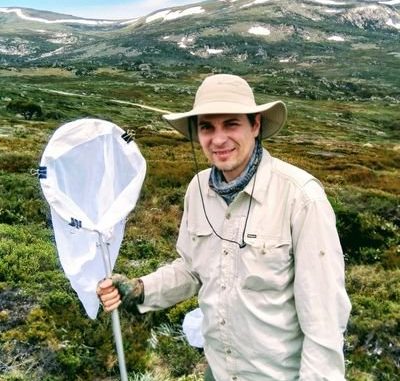 A retrospective of CSIRO's Dr. Francisco Encinas-Viso's talk on the changing dynamics of insect gathering plant resources
For those privileged enough to be at the Wednesday 18 July 2019 meeting of Canberra Region Beekeepers they learnt a whole lot about pollinator networks from CSIRO guest speaker Francsico Encinas-Viso.. We got key insights into plant-insect ecosystem resilience, especially in regards to honey bee networks. We learnt how native bees, flies, moths are all vital parts of the equation.
Dr. Encinas-Viso gave us an overview these networks, not only into the way they and climatic factors were altering the vegetation dynamics in Kosciusko Nation Park but also into the shenanigans club bees get up to at Jerrabomberra Wetlands Apiary when not tucked up at home. Talk to Cormac Farrell, our apiary manager, or to Christine Joannides, our sentinel bee program coordinator, if you would like to assist with any future sampling work CSIRO will undertake using club bees.
And for anyone wanting to follow up on the topics he covered, for example if you provide commercial pollination services to almond and cherry growers, he kindly offered background reading material on contemporary pollination research that he and his team (including Liz Milla and another recent speaker Alexander Schmidt-Lebuhn) are actively engaged in. The nature of crop pollination will change over time and affect the bee industry so we should all keep a close watch on changes that genomic research will provide us some advance warning of.
Here are the links:
*Bascompte and Jordano 2007. Plant-Animal Mutualistic Networks: The Architecture of Biodiversity.
*Godfree, Knerr, Godfree, Busby, Robertson, and Francisco Encinas-Viso 2019. Historical reconstruction unveils the risk of mass mortality and ecosystem collapse during pancontinental megadrought.
*Nurnberger and Keller 2019. Honey bee waggle dance communication increases diversity of pollen diets in intensively managed agricultural landscapes.
*Rader et al 2015. Non-bee insects are important contributors to global crop pollination.
*Richardson et al 2019. Quantitative multi‐locus metabarcoding and waggle dance interpretation reveal honey bee spring foraging patterns in Midwest agroecosystems.
Alan Wade