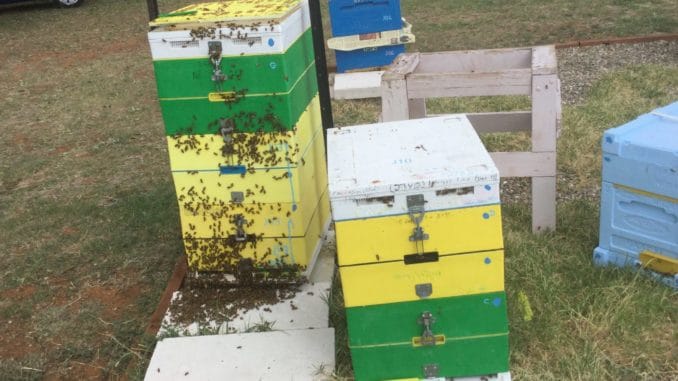 Honey Bee Disease One Stop Shop – updated 13.12.2018
The Beekeepers Association of the ACT and Region has created a guide for inspecting honey bee colonies.  It includes comprehensive reading material from the likes of the NSW Department of Primary Industries, information on how to take diagnostic samples, who to contact if you suspect serious bee brood diseases and how to have diseased gear irradiated.  This information is contained in a compilation information brochure Honey Bee Disease One Stop Shop.  Also included is the form for submitting samples for diagnosis NSW DPI Vet Specimen AFB form and a form that must accompany boxes you pack for irradiation of gear entitled Steritech irradiation form.
Note that you must be registered to keep bees and that you must report any outbreak of American Foulbrood Disease (AFB), European Foulbrood Disease (EFB) or Nosema Disease. Testing services are free to registered beekeepers for a limited number of samples.
Honey Bee Disease One Stop Shop
This link provides access to background material relating to disease recognition in the field, describes basic information on diseases, outlines procedures for taking and submitting samples and provides an outline for adopting barrier systems that will minimise risk of serious infection of hives.
NSW DPI Samples for bee disease diagnosis
NSW DPI EMAI Bee Disease Diagnostics Form
Steritech beekeeping equipment irradiation form
Packing boxes for diseased gear
Packing double wrap boxes for irradiation using heavy duty plastic sheeting is expensive and very time consuming.  The alternative is to obtain boxes to pack gear into for irradiation from either Steritech ($3.85 plus postage) or from the Club for $4.00. You still have to provide a liner but the boxes can be reused up to four times and you can share them with friends after they are returned after irradiation to offset their cost. To obtain boxes log in to SHOP on the club website [https://actbeekeepers.asn.au/shop/], pay for any boxes you need and that are in stock, obtain a receipt and call anyone in the club apiary management team to organise collection from the club store at Jerrabomberra Wetlands, ideally on a club day. Please don't order the whole stock or at least arrange for the club to buy in stock for you.
Hive Management Team
Alan Wade {alanlynewade@me.com]: Andrew Dell [andrew.dell@gmail.com]: Jill Robilliard [jillrobilliard@bjns.id.au]: Michael McMahon [mmcmahon@grapevine.com.au]: Frank Derwent [fderwent@home.netspeed.com.au]: Cormac Farrell [jagungal1@gmail.com]: John Robinson [robboandchris@gmail.com]