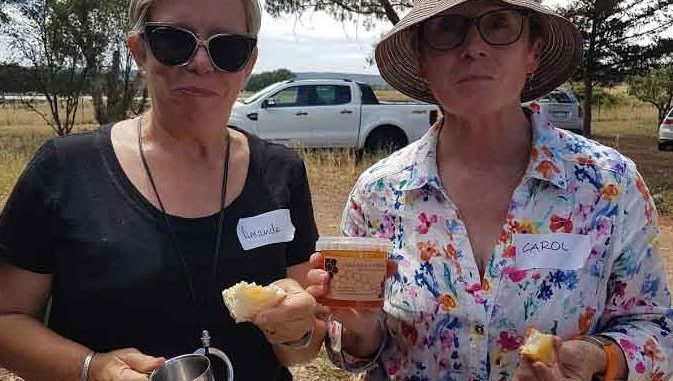 On 13th January 2018 The Association held its first ever member focused honey extraction day. With two sold out sessions we eventually opened up our waiting list and saw around 70 beekeepers from newbie to veteran attend the Jerrabomberra Wetlands Apiary.
The first session started at 9am, most members suited up and got straight into removing frames under the direction of Apiary Manager Alan Wade and Assistant Manager Christine Joannides. Frank Derwent – Training Manager with Dave Segal organising the ticketing and some logistics.  It was great to see so many members at the Apiary and so many great discussions with a wealth of knowledge sharing and questions within a respectful and collegiate bunch.
We had our first tastings of honey around 11:00am with fresh bread and butter and boy was it tasty! By the time the second group arrived we had a stockpile of honey filled frames ready for spinning so members stepped in to relieve the tired spinners whilst others went out to the apiary to gain more hands on hive experience.
For more visuals check out the YouTube channel on the homepage.