Thought that the Heavy Lifters social 'Closedown Session' at the club's Jerrabomberra Wetlands Apiary on Sunday the 7th of April would be the last for this honey of all seasons? Wrong!
Bees always surprise and one more session is needed before we can walk away from the bees till spring. One very pleasant 'Closedown Day' surprise was the delivery of the club's newest acquisition, a long hoped for observation hive that Cormac had tracked down. It was delivered by Chris Hodson, the proud maker from Handcrafted Beehives.
Join us for a final final session to demo honey pressing and for a late disease  inspection of a weak nuc finishing up with a celebratory end of season lunch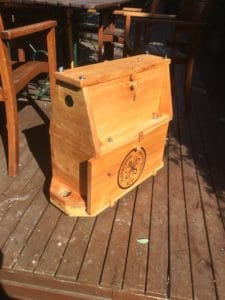 Five plus one Ulster observation hive – shutters down hiding observation windows
An extraction demo
Firstly our disease check of Warré Hives gave us 19.4 kg of comb honey. This has to be extracted. Secondly – bravery awards pending – we requeened a cranky hive and had to harvest a further eight frames of honey. Not much point in leaving all that honey to the wax moths now is there? If you missed out on our extraction field days come along to see how honey can be harvested simply with a fork and a press.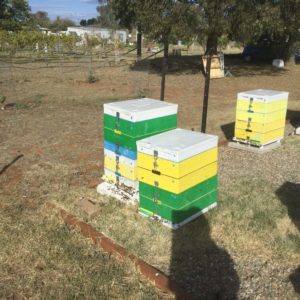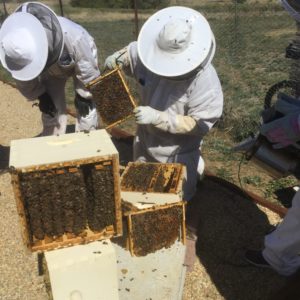 Two equals three – splitting two-queen hive to three singles and Cormac demonstrating Warré honey harvesting
Mortally wounded demo
Apart from some astute rescuing of a hive from an unsolicited attack by cunning wax moths – they got into unprotected areas of a hive – we also found a very weak nuc headed by an old queen that should never have been rescued. The nuc is riddled with chalk and sac brood and the workshop will demonstrate – assuming it survives – how to diagnose common diseases, how to make up a disease diagnosis slide, how to euthanise a diseased colony and how to wrap gear for irradiation.
But before destroying that colony we are having it checked out for EFB (unlikely AFB) on the off chance this unpleasant disease may be lying latent in an otherwise seemingly AFB-EFB free apiary.
Check out Honey Bee Disease One Stop Shop on the website to do your own checking.
A light end of season celebratory lunch
Bring some fresh crusty bread, a few home mades or fruit to share. We will supply butter and get the bees to supply the honey for a simple bread and butter lunch.
All welcome – Michael will be leading all the demos while loyal Heavy Lifters will do all the, erh,  heavy lifting.
Michael McMahon, Cormac Farrell, Frank Derwent, Jill Robilliard, Greg Bates and Alan Wade
Your brand new Apiary Management Team